Five Years Integrated Master's Programme
GLS Institute of Design also offers a five-year Integrated Master of Design programme in which students receive a Master's Degree upon completion of the programme. This is an ideal programme for students having keen interest in design education and seeking to get a masters qualification with a clearly outlined specialisation. The program is completed in five years rather than six years in the traditional mode, saving each participant one productive year. These highly coveted and globally recognised programmes are thoughtfully structured to inspire design students to develop original ideas and concepts.
The following topics will be covered in these programmes:
Innovative design techniques.
Creative Skills.
Conceptual Thinking
Practical Exposure and Critical Analysis
In- depth Research for Design Opportunity Mapping.
Experimentation and exploration as a means of generating new ideas
Contextual understanding requires connecting and relating.
Collaboration and Interaction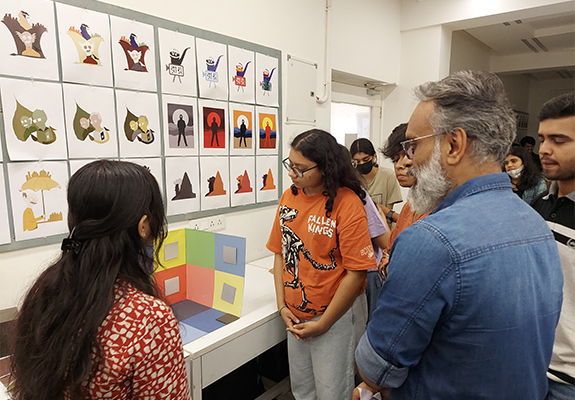 A well-structured and thoughtfully crafted design programme provides the right mix of concepts, practical exposure, senior designer mentorship, professional skills development, global exposure, and extraordinary campus life to transform creative individuals into independent originators capable of introducing new concepts.
Students learn fundamental design concepts during their first year of foundation study, which they will apply during their next four years of specialised study in any of the following areas: Fashion Design, Communication Design, Product Design, and Environment Design. There are multiple tracks available for in-depth study in each of the specialisation areas.
Through the research and development of innovative and original design practises, these programmes aim to strike a balance between conceptual and industry-relevant design education. Students will be chosen each year to present their designs at national and international events.
The programmes differ from any other design curriculum in India in that they cover commercial and management aspects, which will aid students in understanding the nuances of advertising and marketing design, brand management in design, international trade, merchandise analysis and planning, product development and management, range coordination, and retail buying and management.
Bachelor's Programme (Four years) and Integrated Masters Programme (Five years)
Fashion Design
Apparel Design
Accessories & Jewelery Design
Communication Design
Digital Film Making
Graphic Design
Animation Design
Environment Design
Environment & Space Design
---
Semester VIII
Monograph 1
Design Project
Monograph 2
Critical Thinking and Writing
Research Methods
Semester IX
Monograph 3
Monograph 4
Design Project